Haszard, Rhona
Names:
Haszard, Rhona
Haszard, Alice Gwendoline Rhona
McKenzie, Rhona
Greener , Mrs
Hazard, Rhona
Biographical details:
Birth date

21 January 1901

Death date

21 February 1931

Birth place

Thames

Birth country

New Zealand

Death place

Alexandria

Death country

Egypt
Notes:
Rhona Haszard married Ronald James McKenzie on 28 December 1922. Between this date and December 1925 she exhibited under the name Rhona McKenzie. Her Te Ara biography is available online.
Artist files held at:
Exhibited:
Published reference sources: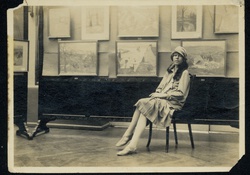 Other places you could look