Index to Art in New Zealand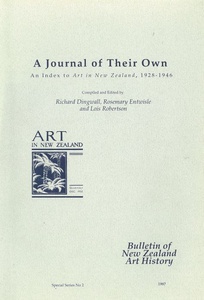 This index, by Richard Dingwall, Rosemary Entwisle and Lois Robertson, was published as Special Series No 2 to the Bulletin of New Zealand Art History, in 1997.
It lists all the artists mentioned in the magazine Art in New Zealand which ran from 1928 to 1946.
The index has been digitised by Christchurch Art Gallery Te Puna o Waiwhetū and is available here.
Art in New Zealand itself has not been digitized but is available in larger public, academic and specialist libraries.
This is a work in progress. Not all the names are here yet but we are adding them all the time. You can check the printed index if you are looking for a particular artist who might be in this publication.
170 artists